Bridging the Gap
2058 N. Mills Ave. #641
Claremont, California 91711
Welcome!
Looking to reinvent yourself after a traumatic brain injury? We're an online lifeline and resource connector. This has been my vision ever since a young woman ran a stop sign and sent my car tumbling end-over-end.
This website allows us to share our research, resources, and stories with each other. We're glad you are here!
Latest Updates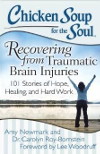 Hot Off the Presses!
I am honored to be one of the 101 people who were asked to share their brain injury journeys in
Chicken Soup for the Soul: Recovering from Traumatic Brain Injuries: 101 Stories of Hope, Healing, and Hard Work
.
New Book Signing Dates!
Thursday, September 4 at 2:00 PM
Medicare Information & Vitality Center
12209 Hesperia Road, Suite E
Victorville (Next to Vons)
Sponsored by Inter Valley Health Plan

Wednesday, October 29 at 10:30 AM
Claremont Place
120 W. San Jose Ave.
Claremont, CA 91711
You can buy the book at one of the signings, or by calling me at
(909) 260-0890
or
emailing me
. The price is $15 + shipping and handling.
Proceeds from purchases made through me go directly to our non-profit, Bridging the Gap. Your purchase will help us share our resources with other TBI survivors!
New Resources Added
Our
Resources
page contains many listings we have found helpful. From medical centers to massage, in-home care to brain boosting techniques, please make use of these great opportunities.
Email Us
if you have a resource to share with others!
Calendar Events through December, 2014 -
Come to one of our informative and helpful monthly meetings! The calendar is in the upper right on the
Forum
pages, and shows as a little grid.
Email Us
if you have an event to share.
Donations Welcome!
Your kind donation makes
sharing our resources possible!


If you would like to contribute to the Susan Reis Carroll Memorial, please make a note of it in your donation. Susan was a TBI survivor and a member of our community.
Our Stories - Video Edition!
We're so proud to present our members telling their own stories, live on video.
Watch Now

Our Gang at a recent meeting

Bridging the Gap is a 501(c)(3) non-profit organization